This innovative placemat has a built-in plate and bowl and cleverly sticks to any table or tray, making it impossible for your child to knock over their food or fling a plate to the floor. The suction between the placemat and table is tenacious, so your child won't be able to move it at all, but it releases easily if you peel up the outer edges.
The Ezpz mat is made from high-quality food grade silicone. They're extremely durable and made to last through countless messes or tantrums. Ezpz placemats contain no PVC, BPA, lead or phthalates. They're hypo-allergenic and do not harbor bacteria.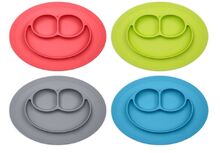 Ad blocker interference detected!
Wikia is a free-to-use site that makes money from advertising. We have a modified experience for viewers using ad blockers

Wikia is not accessible if you've made further modifications. Remove the custom ad blocker rule(s) and the page will load as expected.